Najaarssymposium/Fall Symposium 11 oktober 2017

<see below for an English version>
Het jaarlijkse FABIAN symposium, georganiseerd door de werkgroep Farmaceutische en Biomedische Analyse van de KNCV in samenwerking met de Vlaamse werkgroep Bioanalyse, bracht op 11 oktober 2017 een groep bioanalytische wetenschappers samen voor een inspirerende dag op het ERIBA instituut van de Rijksuniversiteit Groningen. De ongeveer 70 deelnemers spraken over nieuwe mogelijkheden van hoge-resolutie massaspectrometrie, HR-MS, in de (gereguleerde) bioanalyse.
Na een introductie door één van de pioniers van de moderne massaspectrometrie, prof. Hopfgartner van de Universiteit van Geneve (Zwitserland), volgden een vijftal presentaties van wetenschappers uit internationale onderzoeksinstellingen en bedrijven, die HR-MS gebruiken voor verschillende aspecten van de bioanalyse. In de ochtendsessie werd het gebruik van HR-MS besproken voor metabolisme en farmacokinetiek en de karakterisering van monoclonale antilichamen. Tijdens de middagsessie werd verder ingegaan op de mogelijkheden van kwantificatie van therapeutische eiwitten, ultra-hoge resolutie MS en proteomics.
Het symposium bood uiteraard tevens de gelegenheid oude contacten te hernieuwen en nieuwe te maken. We kijken ernaar uit ook in 2018 de Nederlandse en Belgische bioanalytische gemeenschap weer samen te brengen voor een even geslaagd symposium.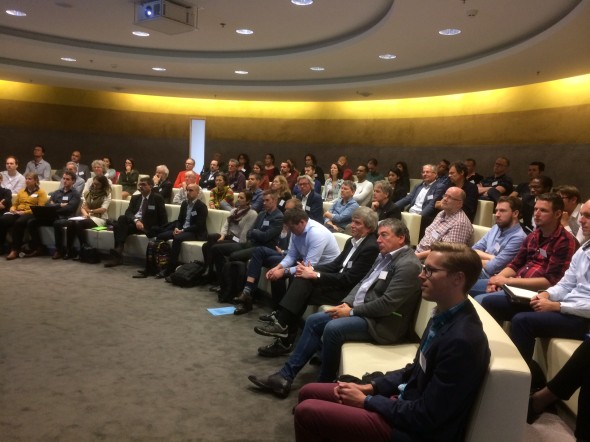 The 2017 edition of the FABIAN symposium of the Bioanalysis Working Group of the Royal Dutch Chemical Society (KNCV) in close collaboration with the Belgian Bioanalysis Working Group brought together young scientists and experts in bioanalysis during an inspiring day at the ERIBA Institute of the University of Groningen. About 70 participants discussed new possibilities of using high-resolution mass spectrometry in (regulated) bioanalysis.
After an overview given by one of the pioneers of modern mass spectrometry, Prof. Hopfgartner from the University of Geneva (Switzerland), there were presentations related to scientists and practitioners from industry and international research institutes. The afternoon session went into specific examples of therapeutic protein analysis, ultra-high resolution mass spectrometry and proteomics.
The symposium allowed to renew acquaintances and to make new contacts. We are looking forward to an equally successful symposium in 2018 to bring the Dutch and Belgian bioanalysis community together again.